Ben Kuhl - March 24 2022
Design Your Shelves To Fit Your Home
You know you need custom floating shelves for your home or small business. You even have an idea of where you want them to go and what you want to put on them. But what type of shelving should you get? If only we had Joanna Gaines on speed dial! Not to worry, we're here to help.There are a few things to consider before deciding. The first is what you want the floating shelves to look like and if they will blend in with the decor or stand out and make a statement within your current interior design.

However, there is more to shelving than just the aesthetics. After all, custom floating shelves serve a functional purpose as well. So, you will want shelves that can both look amazing and be strong enough to keep everything stored away without being damaged.
It's important to consider what you will be using the shelves for, what wood will work best for the purpose, what brackets will be the strongest and most visually attractive, the size of shelf needed, how many you require, and how much weight the custom floating shelves will need to bear. This may sound like a daunting task at first, but, we swear it'll soon all come together. Stronger and more durable custom floating shelves will be required for multiple heavier objects that need a place to be stored, while lighter and more decorative shelving can be utilized to display the small things you love safely. Here are the most important aspects to keep in mind:
Design
When it comes to adding shelving, it's about finding that perfect combination of functionality and visual appeal. The first step is choosing the right wood and brackets to match the design you are going for. Here are some design elements to consider before making a final decision:
Does the area need something that blends in or stands out?

Are you looking for an accent shelf to highlight a few photographs, or do you want something that will withstand frequent use and serve a practical purpose, such as storing plates or sports items?

What type of wood or finish would fit in with the surroundings?

Are you going for traditional or something unique?
Finding The Perfect Space
For shelving that highlights cherished items, you'll want it within view but away from traffic to avoid the possibility of the items being bumped or knocked down. A shelf above a fireplace, off to the side of a television, or above the traditional height for a shelf but still at eye level are all viable options. Consider the space you have to work with, what areas are being underutilized, and which are the best ones for highlighting prized possessions and décor items.
For more functional floating shelves, such as those in the kitchen, you'll want them in an easily accessible area and at a comfortable to reach height. Consider kids, pets, foot traffic through the room, proximity to where you will be using the items on those custom floating shelves, and other variables that might impact where shelving should be.
For other shelving needs, consider ease of access, if it clutters or contributes to the design of the space, and if it will be unobstructive in the location. You will want your floating shelves to add value to a space, not take it away.

Next, plan for the exact location of your shelf installation.

Installation is simple, and all the parts you need to do so will be included if you are ordering from Shelf Expression. Anyone can do the task with a few simple tools and easy-to-follow instructions. It's not nearly as intimidating of a project as it might appear to be at first. If you can find a stud, you can install a shelf! Using a stud finder (check on yourself, first) find the studs and get marking. You can then follow the provided directions to get your shelves hung.
What Will Be On The Floating Shelvs?
If you will be displaying flowers, photographs, or other fairly light and decorative items on a floating shelf, you won't need heavy shelving and will have a lot of options available. A well-built small pine shelf with hidden dowel support will cut costs while still exuding a sense of quality, especially if other shelving in the home has the same style of brackets to bring that visual element through the space. Another thing to keep in mind is that you can also have the wood stained to match the more expensive wood in the home. We'll be discussing that shortly.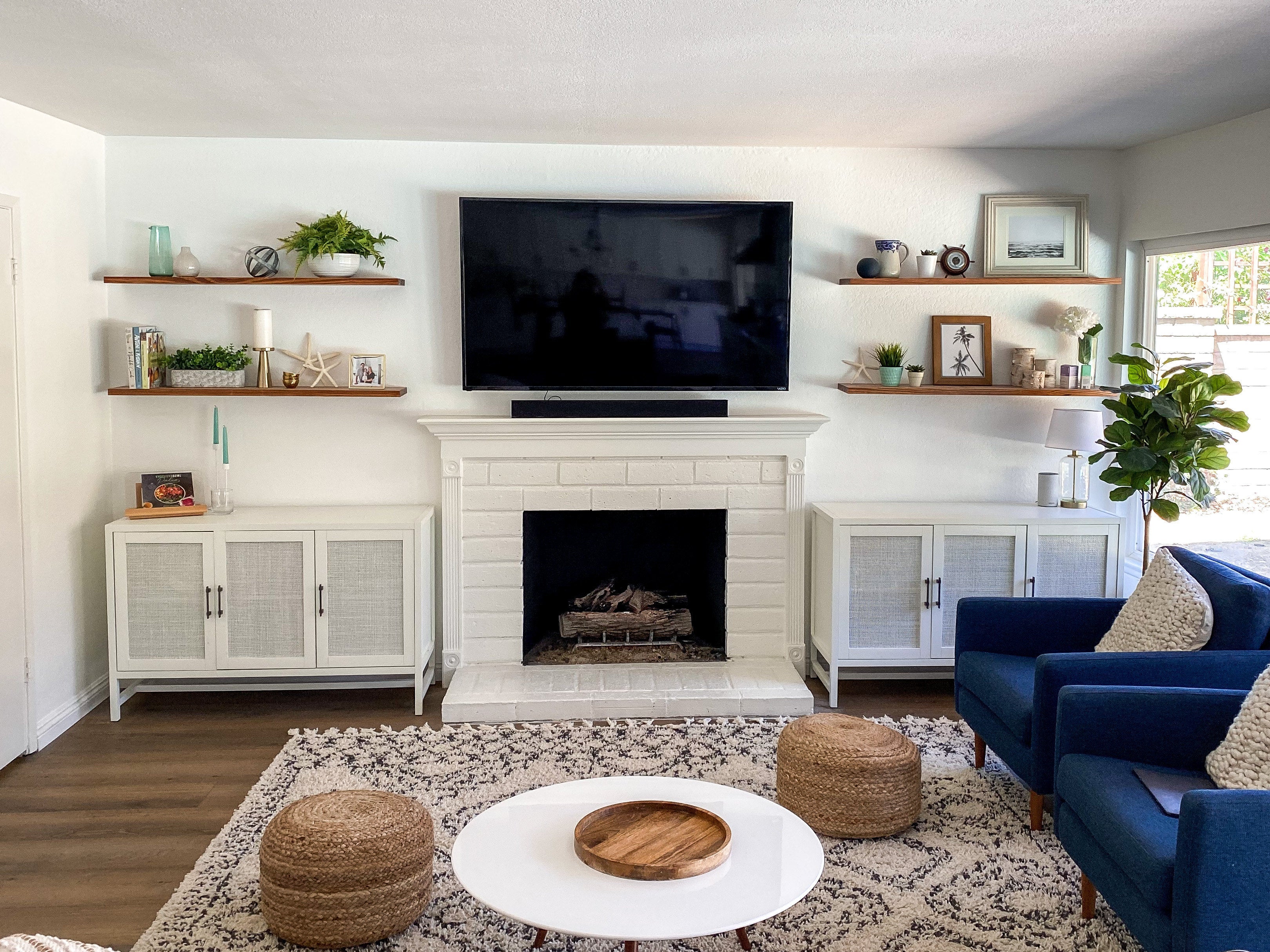 Custom Pine Floating Shelves
Pine wood is an excellent choice for a floating shelf. Its natural look creates both a modern and rustic feel, plus this wood is both budget friendly and durable. All of our pine shelves are finished with an oil based gel stain for an even finish that will last for many years to come!
You'll love having these custom pine shelves in your home. They're available in a variety of different shelving lengths ranging from 20" to 58", with depths of 8". If you are looking for a custom size, we can do that too.
These pine shelves are supported with a couple different options. You can choose to use an industrial pipe shelf bracket or a dowel rod bracket that affixes to the back of the shelf. You can easily fit multiple items on a shelf without it breaking or sagging in the middle.
To help you make a decision on
which shelf is best
for your decor, you can order samples of these shelves. Choose a stain to create that perfect match for your home decor. The perfect option for adding any pop of color to your home.
View Details
For heavier items, it is a good idea to invest in sturdier shelving. For floating shelves that will get a lot of use in rooms such as the kitchen, living room, or an entertainment room, we recommend a shelf using our heavy-duty Hovr brackets to keep them in place and your items safe and secure. In addition to brackets, there are a couple of other considerations. You may need to go with deeper custom floating shelves to hold larger items and consider a more durable high-end solid hardwood to support those items.
What Is The Right Shelf Depth For Your Items?
We get a lot of questions about what a good depth is when considering hidden-bracket and other wall floating shelves. In general, 8-9 inches in depth is enough for decorative items such as pictures and trinkets. For bookshelves, you will want more depth. To make sure there is enough room for books to sit, we recommend a depth of 10-11 inches. In the kitchen, you will want a little more. A depth of 12 inches can comfortably and safely hold items most items such as plates and cooking items, including pots and pans. However, a small kitchen shelf that is just for mugs can probably be shallower in depth without an issue.
If you are unsure, it's a good idea to break out the handy ol' ruler and measure some of the larger items that you'll want to place on your floating shelves. Consider their depth and width when ordering custom floating shelves. Also, take into account their height when deciding on the placement of those floating shelves so that there is enough room above each shelf for the items to fit.
There are quite a few options when it comes to wood. For shelving, the best options tend to be walnut, cherry, hard maple, and pine. Take a look at the pine stain options to get a better idea of what Shelf Expression can do for you.
The wood can be naturally beautiful or enhanced with a stain to more closely match the furniture and wood trim in your home. Shelf Expression offers the option to receive your custom floating shelves already professionally treated and protected, with beeswax polish and a stain applied, or an 'unfinished' option so you can break out your DIY can-do attitude.. It all comes down to the look you are going for, how unique you want to get, and how much time you would like to invest in the process yourself.
Keep in mind that floating shelves, especially in high-use and damp areas such as the kitchen or bathroom, are going to need full protection. So, if you choose to stain the wood yourself, do not forget to add a quality protective coating as well.It's also a good idea to take care of and protect your floating shelves over time to maintain their look and value. Dust (or, if you are in a hurry, vacuum) the top of your floating shelves regularly. Occasionally, do a more extensive cleaning by removing all items from the custom floating shelves and cleaning the wood with a natural and wood-safe soap such as Murphy Oil Soap Orange Oil Cleaner followed by a furniture wax or polish to provide continued protection.
Shelf Bracket Options
Hidden brackets are a perfect option if you want floating custom floating shelves that make a statement on their own. The Hovr brand of heavy-duty hidden shelf brackets used by Shelf Expression are made from aircraft-grade aluminum and have 300 pounds of average weight capacity without any buckling or bending, so don't feel limited by the size of the shelves or what will be stored on them.
Shelf Expression hidden shelf brackets
If you want to make more of a statement, consider visible brackets such as the visually striking industrial pipe brackets. This is one of the areas in which there are a lot of options if you are willing to get creative.
Shelf Expression pipe brackets
The sky (or, in this case, the ceiling) and your imagination are the only limits when quality custom floating shelves are involved.
Hi, I'm Ben! I'm a woodworker, shelf creator, stain matcher, and general DIYer who blogs about all things woodworking and current custom floating shelf design trends. I'll even try my hand at non-shelf topics. Anyone can be an expert these days as long as they sound authoritative, right? I may even add some humor here and there (my wife thinks I'm funny, sometimes). Here's my story: Learn more.